A Must - Come & join in on this momentous occasion.

About the Film:
The Case for Christ
A hard-driving journalist, Lee Strobel was exactly where he expected to be at work: on top. His award-winning investigative reporting recently earned him a promotion to legal editor at the Chicago Tribune. But things weren't going nearly as well at home where his wife Leslie's newfound faith in Christ went against everything Lee believed—or didn't believe—as an avowed atheist. Utilising his journalistic and legal training, Lee begins a quest to debunk the claims of Christianity in order to save his crumbling marriage. Chasing down the biggest story of his career, Lee comes face-to-face with unexpected results that could change everything he knows to be true.
Based on Lee Strobel's award-winning bestselling book and starring Mike Vogel, Erika Christensen, Faye Dunaway, and Robert Forster, THE CASE FOR CHRIST opens in cinemas in early May 2017 around Australia – A movie for anyone who has ever pondered the existence of God…and what role He could play in their lives.
Review: part of a review by Focus on the Family ( http://www.pluggedin.com/movie-reviews/case-for-christ

After his unlikely conversion in the early '80s, Lee Strobel would go on to chronicle his spiritual journey in the bestselling book that bears the same title as this movie, The Case for Christ. He eventually left journalism to become a pastor at the influential suburban Chicago megachurch Willow Creek. Strobel's story is dramatic and persuasive, one that will encourage Christians in their faith. But what about others who, like Lee throughout much of this movie, don't believe? Can The Case for Christ influence them, too? Strobel is optimistic about that possibility. In an interview with the Christian Post, he said, "We are living in a post-truth era, where people are searching for solid ground, they're looking for something to say this is true, I can rely on this. Christianity claims to be true. It says it's not wishful thinking or make-believe or legends or mythology, but it's based on actual historical evidence. And I think these days young people especially are looking for something solid like that to put their trust in."
Strobel also added, "We really feel like this movie is going to capture people's imagination and encourage them to take seriously the fact that there is good evidence to believe Jesus is who He claimed to be. … I do think that in this time of cultural relativism where truth is under attack it's a perfect time for this movie." Case makes its case compellingly. And for viewers who find themselves on the same threshold between unbelief and faith, Lee Strobel's story may very well be a catalyst that helps them embrace Christ, just as he does in this personal, powerful, at times gritty and but ultimately redemptive story.
Check the Trailer: https://www.youtube.com/watch?v=q-YrsV9PVjI
Can you help us: We are asking attendees this time, who can afford and would like to, to donation the difference between the special price organised of $9 and the normal price $14 of $5 towards the Herons Creek Chapel Toilet Appeal. There will be a 'light' mention on the night but this will not be flogged, as we are about focusing on the true purpose of the night.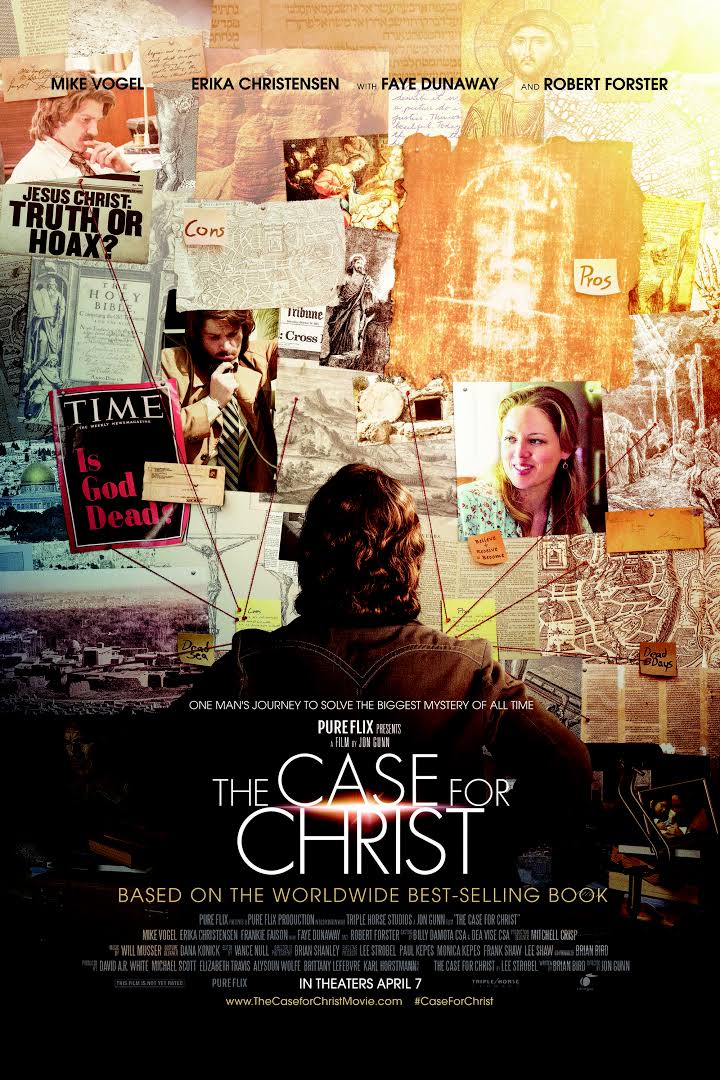 Book early.

Location: The Plaza Theatre, Bold Laurieton
Website: http://www.plazatheatre.com.au/
The Case for Christ
RATED: Not yet classified
An investigative journalist and self-proclaimed atheist sets out to disprove the existence of God after his wife becomes a Christian.
| | |
| --- | --- |
| Director: | Jon Gunn |
| Writers: | Brian Bird (screenplay), Lee Strobel (book) |
| Stars: | Mike Vogel, Erika Christensen, Faye Dunaway |
Please direct any enquiries to Martin Parish 0411426427.